Subscribe to my newsletter below to keep informed of forthcoming projects, exhibitions and the occasional first peek at my latest work.

COMING THIS YEAR// Roy's Art Fair // 28th September – 1st October 2023
I'll be exhibiting at the iconic Bargehouse on Southbank again this September. Come along to see my latest work as I take my paintbrushes and delve into the world of pop surrealism.
The Illustrator's Fair // 10th December 2022
Big thanks to all who came to see me freezing my tits off, and a bigger thanks to everyone who brought me coffee to warm up!
The Illustrator's Fair // 16th July 2022
Returning to Granary Square again to flog my prints, come along and say hi!
Roy's Art Fair // 7th – 10th April 2022
Thanks to all who came along to the show at the Old Truman Brewery!

The Illustrator's Fair // 18th December 2021
I'm excited to be returning to Granary Square, King's Cross for the Illustrator's Fair! I will be tethered to my stall from 11am – 5pm. You are more than welcome to bring me coffee or mulled wine in exchange for a 2 minute doodle.
Roy's Art Fair // 25th – 28th November 2021
Back again at the Bargehouse 3 months later – it was like I never left! Thanks to all who stopped by to shelter from the galeforce winds and admire the art.
Food Fight! // 12th November – 5th December 2021
A joint show with fellow Folkestone artist Samuel Capell. Taking place at the Stables Gallery, 35-37 Tontine Street Folkestone. Come and feast your eyes on our food related creations!
Roy's Art Fair // 12th – 15th August 2021
After countless cancellations and delays, it's finally here! Looking forward to seeing you at the Bargehouse. Tickets are free and can be obtained by clicking here.
Own Life  // September 9th 2020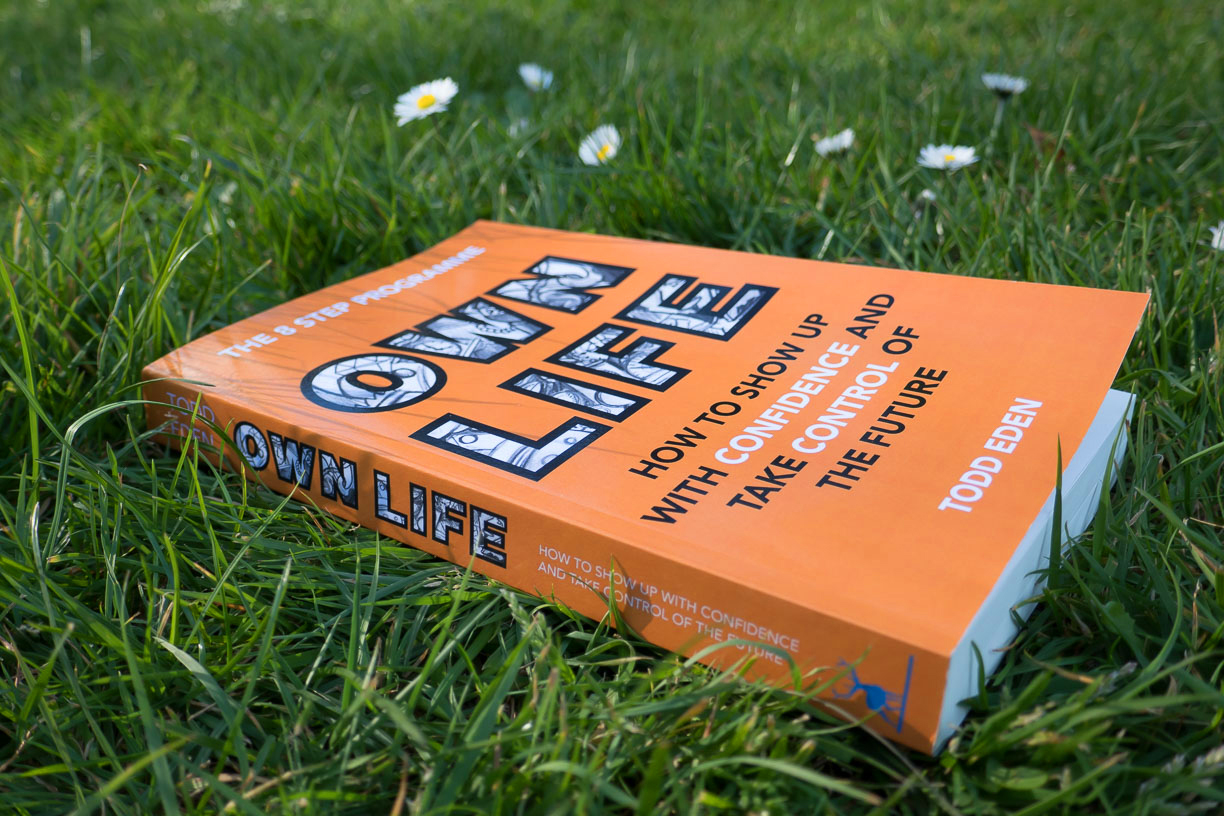 This is the book I illustrated. Hundreds of ideas, scribbles and mistakes were reworked and refined into a selection of semi-polished sketches over the past 2 years to accompany the wise words of author and coach Todd Eden.
Own Life helps you discover your authentic self, manage your time and your energy levels better and increase your emotional intelligence. All of which came in handy for me over the course of the project! Even months after finishing it, I think back to the diagrams, illustrations and metaphors when organising myself to work efficiently and procrastinate less, despite lockdown throwing some unexpected challenges. And it gets me thinking forwards a lot more, about where I want my creative journey to take me and the changes I need to make it happen.
COVID-19 // April 2020
While preparing to deliver you news of Roy's Art Fair, I was rudely interrupted by a global pandemic and told to stay indoors, as if that's not what I do already. Stay safe and hope to see you at a future art fair!
House Of Illustration – Winter Fair // 15th Dec 2019
My 4th time showing at Granary Square @ King's Cross and the fair still feels as fresh and new as ever. It was the best one yet!
Roy's Art Fair // 3rd – 6th October 2019
My 2nd appearance at Roy's, this time at the Old Truman Brewery during one of the busiest weeks for art fairs in London. I was buzzing the entire weekend, from both sugar and the vibes given off by visitors. Thanks for coming!
"Indigenous" Exhibition @ Margate // August 2019 
A group exhibition looking at the gentrification of British seaside towns, poverty and the displacement of local people through rising rents which was, unfortunately, cancelled at short notice by the gallery who raised the rent and offered the space to richer, more affluent artists coming down from London.
But thanks to community spirit, a smaller version of this show will take place in various local businesses in the coming months and a councillor from Ramsgate has offered funding and resources to help this exhibition go ahead next year.
House Of Illustration – Summer Fair // 13th July 2019 
My third appearance at Granary Square, King's Cross. Come and find me amongst a sea of creative cretins. 
Roy's Art Fair // 4th – 7th April 2019 
2 of my freshest artworks will be exhibited, as well as some of my finest leftovers as I flog myself at the Bargehouse on Southbank. Come along – tickets are free!
House Of Illustration – Winter Fair // 8th December 2018 
Returning to Granary Sq. King's Cross LDN for their Winter Fair, getting juiced up on mulled wine and flogging my artwork to satiate your festive binge.
Creative Quarter Secret Postcard Show // 15th November 2018
So secret, in fact, I forgot to notify anyone of my involvement. Nevertheless, my late submission was sold and proceeds from the show went towards the work the good people do at Touch Base Care and The Rainbow Centre.
New Artist Fair – Summer Exhibition // 14th – 16th September 2018 
Taking place @ The Old Truman Brewery on Brick Lane, I will delve deep into the oiled beard of Shoreditch to see what opportunities await me, with hope that the community of hipsters adopt me as their latest trend and spread the word that they knew me before you knew me. I have to deny all fame I have accumulated beforehand, whilst still displaying the symptoms of fame in the form of an inflated ego and a shit pair of glasses.
House Of Illustration – Summer Fair // 30th June 2018 
Thanks to all who visited my stall at Granary Sq. King's Cross. I had fun chatting to you all about my work, the good weather and the chances of human survival in a post-apocalyptic world.
Creative Quarter Christmas Market // 9th December 2017 
Come along and get festive at the Creative Quarter's Christmas Market @ 3-7 Tontine St. I'll be there with my imprisoned elf installation sabotaging the festive vibe. I'll be selling leftovers from the London Illustration Fair and will accept booze and mince pies as currency. Being the season of goodwill, I might decide to wrap any artworks bought as a gift, but don't hold me to that.
The London Illustration Fair // 1st – 3rd December 2017
I've been selected as one of the 65 exhibitors to take part in this year's London Illustration Fair.  The event takes place at the Bargehouse on Southbank and looks set to be an intense few days! I'll be selling original artwork alongside my finest selection of limited edition prints. You can find me on the top floor within stumbling distance of the bar.
The Chip Shop Group Exhibition // 21st-22 October 2017
Group show with the Chip Shop Group on The Old High St. where I launched my new ice cream series (at the wall).
Maidstone Art Market // 30th September 2017
More art market mayhem in Maidstone! I really enjoyed discussing the ideas and thoughts that fuel my work and the smiles provoked by my 2-part decapitated teddy painting.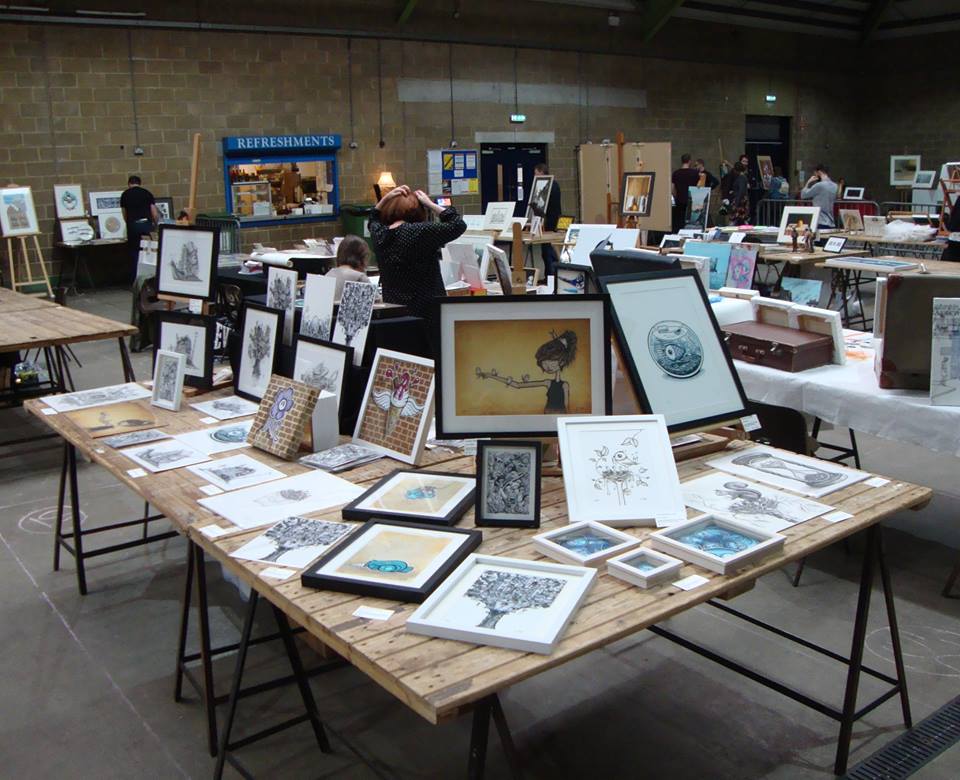 The Vauxhall Art Car Boot Fair // 2nd September 2017
The Vauxhall Art Car Boot Fair came to Folkestone's Harbour Arm for the launch of the 4th Folkestone Triennial. I was thrilled to be invited alongside fellow members of The Chip Shop Group!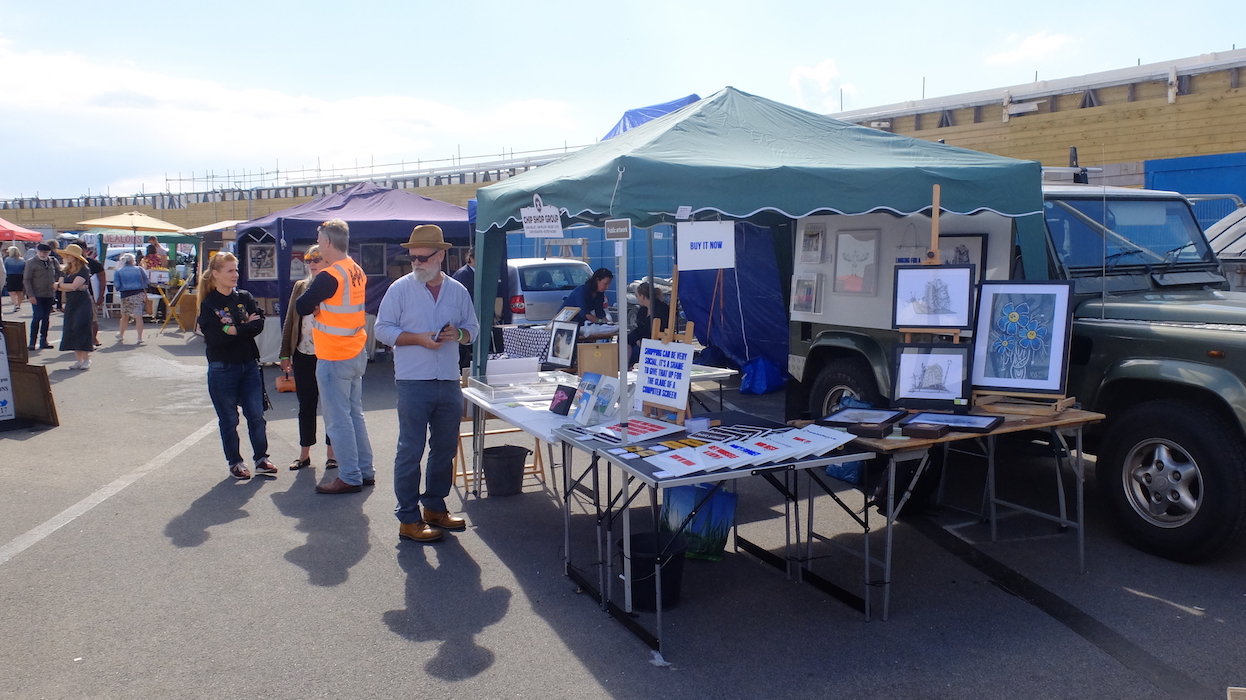 March 24th 2017
Website refresh. No need for a link – you're already here. Have an imaginary glass of bubbly on me and invite a guest to check out my work.
December 17th – 18th 2016  
Chip Shop Group Traditional Festive Market 2 – Offering an alternative array of festive wares. I exhibited my elf sculpture, imprisoned inside a present with a bow on top – an installation piece that looks at the exploitation of child labour to provide for our obligatory annual consumerist binge.
All clothing, furniture, walls, body parts, toys and accessories were made by me. Mostly from second hand, old or reused materials. No elves were harmed in the production of this piece, but 1 Dave was exploited for 100+ hours of unpaid labour.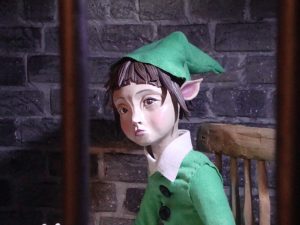 ---
September 16th 2016 // Art Market, Maidstone
Self explanatory. Inspired by the Art Car Boot Fair.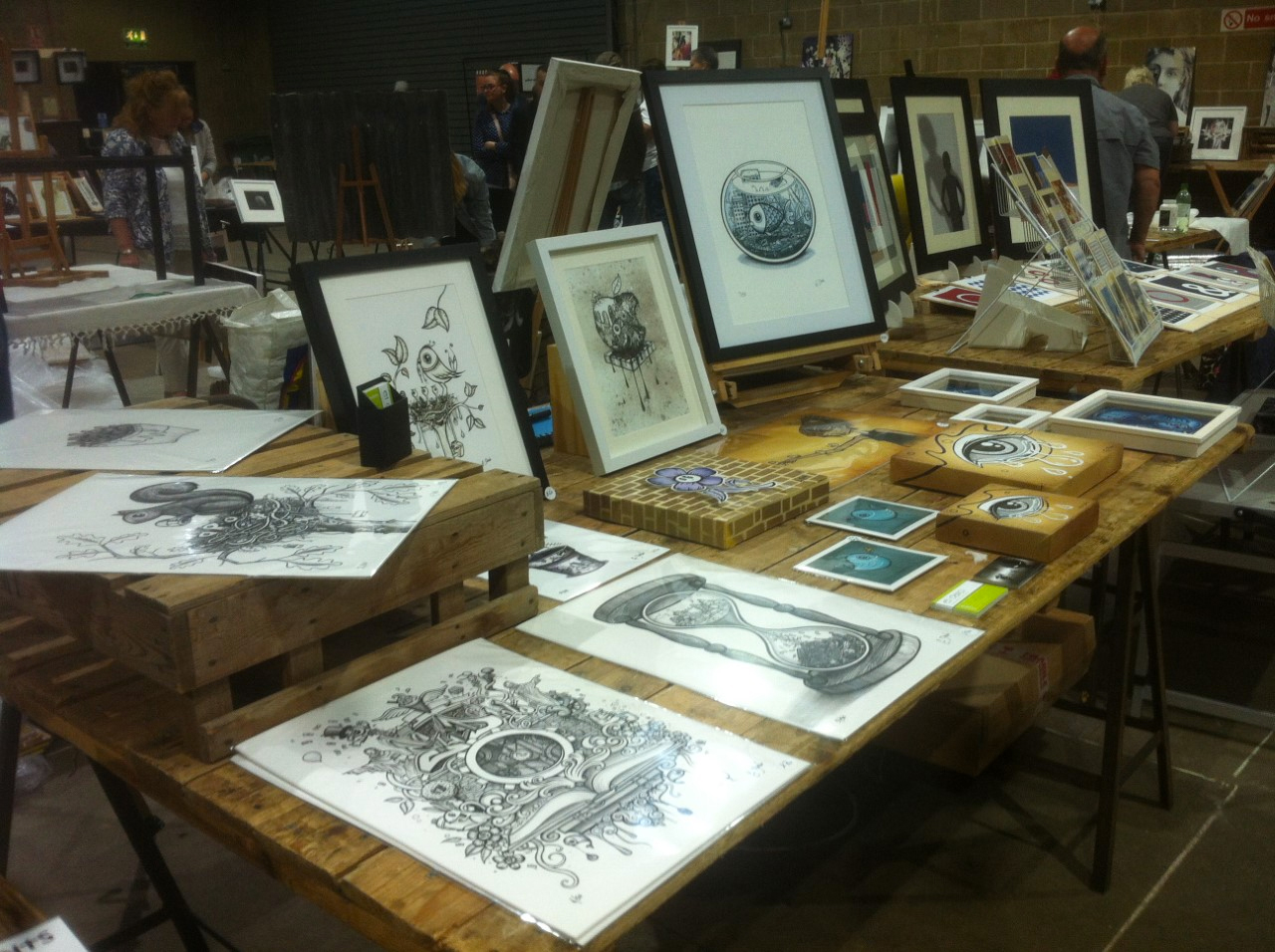 ---
July 17th 2016
For a month, my parents looked after 2 girls from Belarus as part of the Chernobyl Children's project which allows young people from families affected by the 1986 nuclear disaster to spend a month in the UK. Yana and Dasha were two awesome kids, both extremely polite and grateful. They were fascinated when they saw me drawing one day and I think they thought I was famous, so I did them a small painting each.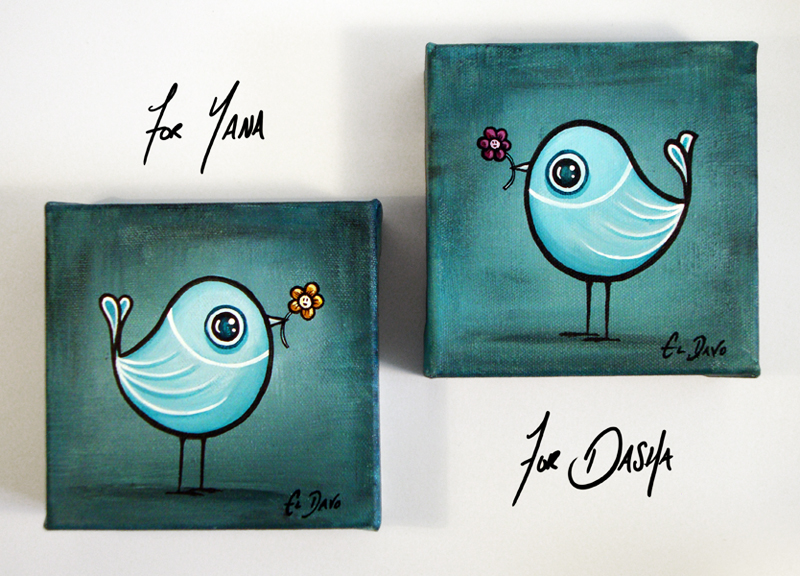 ---
May 2016
My latest artwork comes with a bottle of wine attached. Available from Googies in Folkestone.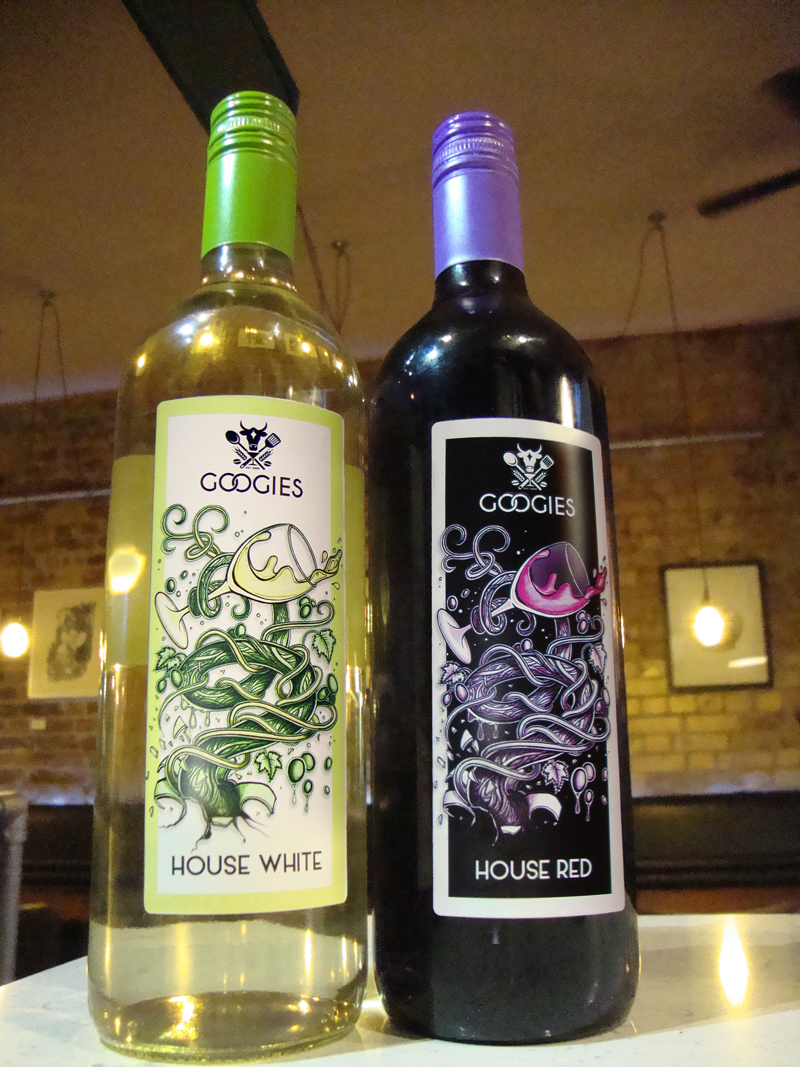 ---
March 2016
One of the coolest projects I've done so far – the cocktail cup design for Bathtub & Gun. A new cocktail bar on Folkestone's Harbour Arm. These eco cups eliminate the need for single use disposable cups by encouraging drinkers to return them to the bar in order to get their £1 deposit back, or they can take it home. Either way it helps reduce pollution.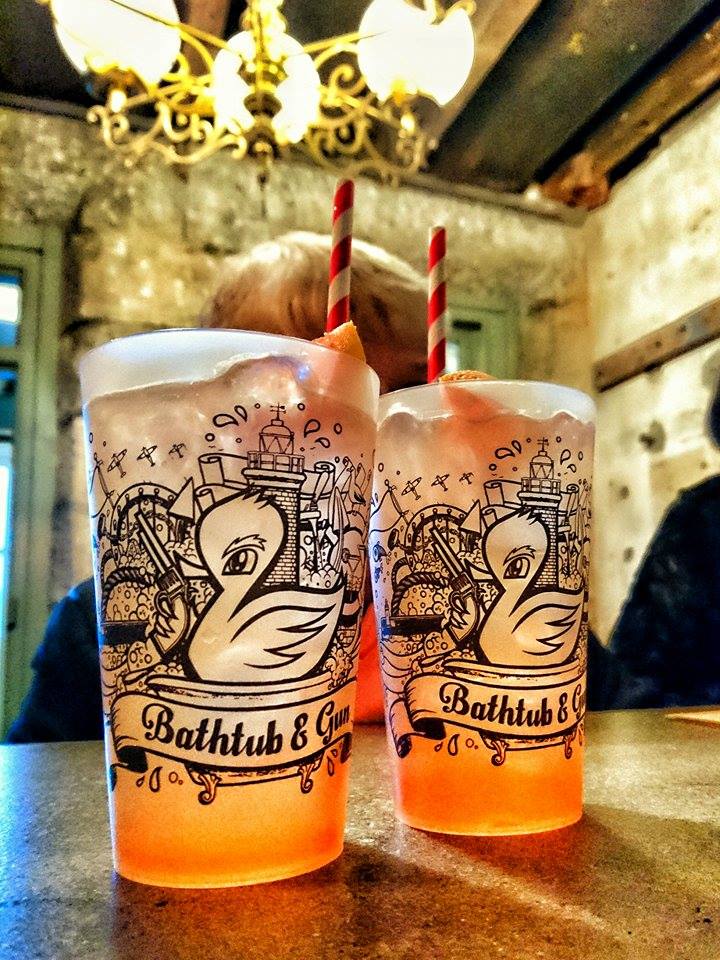 ---
December 16th – 20th 2015
Art Maze Exhibition at the Bargehouse, Oxo Tower Wharf at London's Southbank.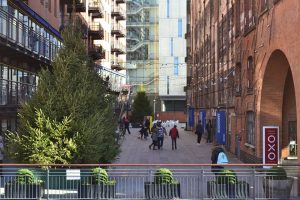 ---
December 12th – 13th 2015 
Chip Shop Group's Traditional Festive Market on Tontine Street. Offering alternative Christmas gifts to your usual plastic tat.
---
October 10th 2015
I hate Christmas already.
---
August 15th – September 27th 2015
Group exhibition at Bluewater Shopping Centre with the What If Gallery. We freshened up Bluewater with a wall cheekier than Nandos, fresher than an Apple and tighter than the elasticated ankle cuffs on a pair of Reebok trackies.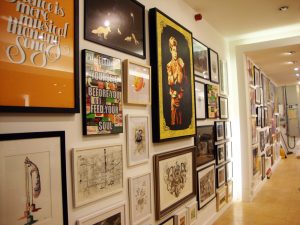 ---
June 20th – 21st 2015
Chip Shop Group exhibition as part of the Creative Foundation's Open Quarter event.
---
January 9th 2015 
I spent most of the Christmas period adding the Burnap + Abel colours to the wall of their office in Folkestone. You can gawp through their window if you'd like a closer look.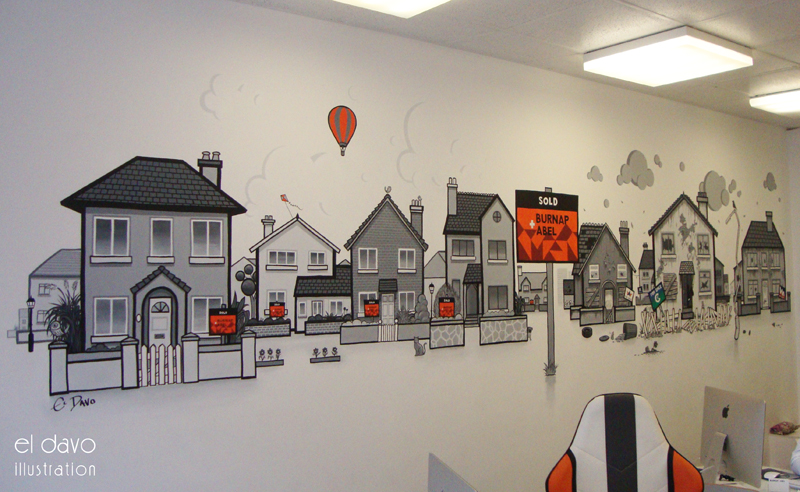 ---
October 17th 2014
My biggest illustration to date stands at just under 10 metres tall in Noel's Yard, Folkestone.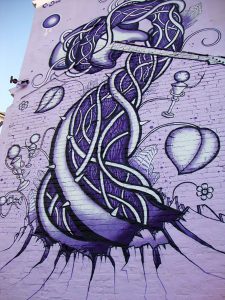 ---
June 21st – 22nd 2014
Chip Shop Group exhibition at 8A The Old High Street: Open Quarter event.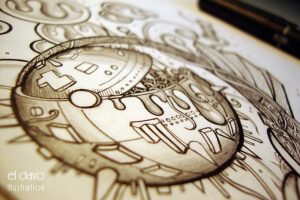 ---
2013 – Reloading 
---
Dec 24th 2012
Mural @ Googies. A scene that captures the essence of Folkestone life.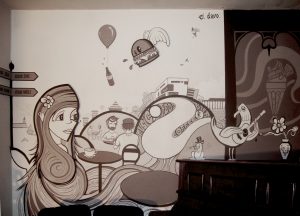 ---
October 26th 2012
Art Installation @ The Chambers: Sub Night – A new audio-visual concept with UV art installations by Beka Smith and El Davo and music by the Sideways' DJs.
---
July 10th 2012
Shepway's Hidden Gems project launch. Commissioned by the local council to brighten up the empty shop windows in time for the London 2012 Olympic Torch Relay as it passes through Folkestone. My contribution championed the often neglected East end of Folkestone and Harbour area.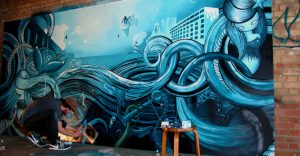 ---
March 8th – 18th 2012
Sideways Recordings Album Launch & Art Exhibition @ Space Gallery, Folkestone.
---
Feb 19th – 25th 2012
Group Exhibition @ Space Gallery, Folkestone.
---
August 2009
Group Exhibition @ Arts at Trinity, Leeds.
---